Luxury Vinyl Plank and Luxury Vinyl Tile floors are a wonderful alternative to hardwood, especially where a concern exists of occasional water problems. LVP & LVT are both resilient durable flooring that will hold up to kids, pets and water. Outstanding manufacturer warranties apply to the durability with excellent appearance of both products. If you have a plumbing leak this flooring is 100% waterproof. This is very popular in basements and laundry rooms but is also a great choice in any room where extreme wear is a concern. LVP & LVT work especially well in homes on or below grade with possible water problems. LVP & LVT come in a variety of styles, colors and sizes!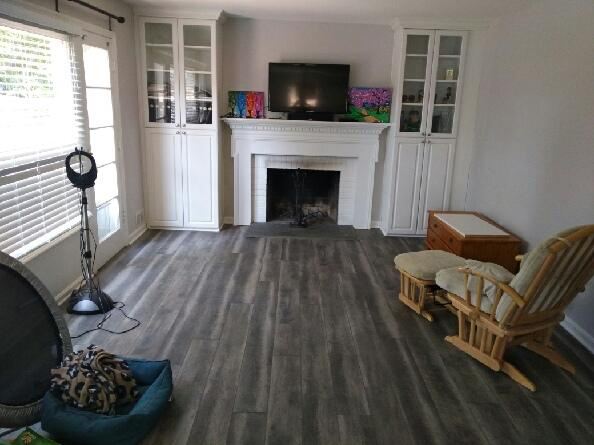 Luxury Vinyl Plank in modern gray color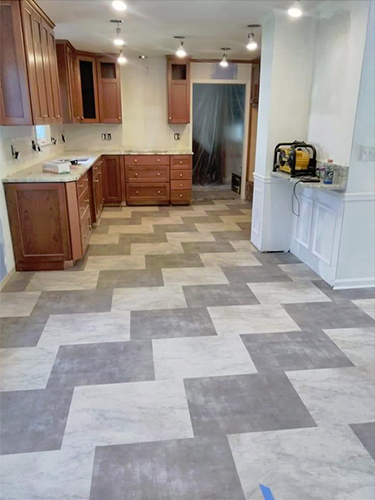 Luxury Vinyl Tile in Kitchen
Unique pattern of Luxury Vinyl Tile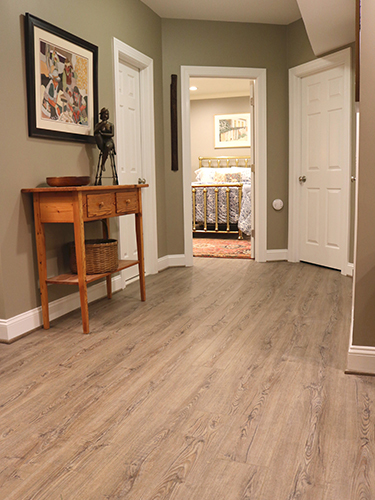 Luxury Vinyl Plank in nice wooden look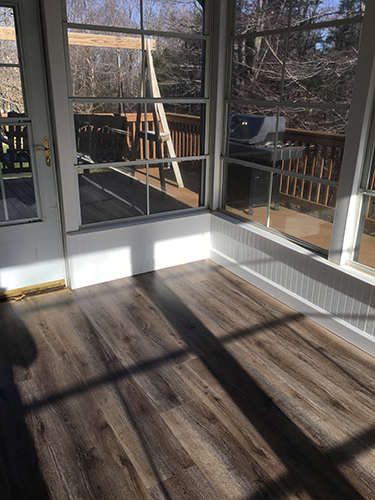 Luxury Vinyl Plank on Sunporch
Luxury Vinyl Plank (LVP)
LVP is a great, waterproof flooring option for basements, laundry rooms and sunrooms, or really anywhere in the home! We carry two exceptional brands, Coretec and Impressions and have had great success with both of these manufacturers. Each of these brands have their own unique system (one has rubber backing, the other has cork backing) With the look of real hardwood, LVP is an impressive alternative to hardwood floors. LVP is not indestructible but it will take quite a bit of effort to damage it! We have a LVP to fit most any budget.
Luxury Vinyl Tile (LVT)
LVT is a wonderful alternative to ceramic tile; it's warmer and softer to stand on! LVT is a beautiful option for kitchens and bathrooms, but can be installed anywhere in your home! We offer two extraordinary lines, Congoleum and Armstrong. Our customers have been extremely happy with both! The LVT can be grouted with an acrylic based grout; is easier to clean than sanded grout used for tile.